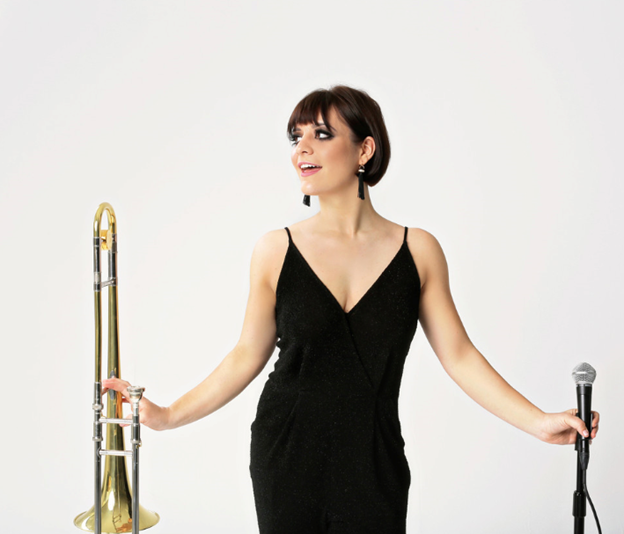 Photo by Nick Falangas
I saw this super star this past Saturday at Rockwood Hall in NYC- I have been following her for some time but seeing her hearing her live is amazing!  Aubrey Logan takes a song you've heard a thousand times and spins it on its heels. It's new. It's fresh. It delights. AND – she writes. Oh, does she write! — songs with lyrics that paint the chambers of the heart with all the colors on the human palette. I am a true fan of her original material. And guess what her new album is out – it's called Impossible – and I strongly suggest you all go buy this one- just click here !
Whether she's jammin' on her trombone or sailing through a song with her nothing-held-back, multi-octave vocal instrument, Aubrey captivates audiences and delivers originality to everything modern in music. Her style as an entertainer ranges from sassy to sultry, and her performances never fail to elicit the highest critical praise.
PISTOL written by Aubrey Logan:
A graduate of Boston's renown Berklee College of Music and winner of the top vocal competitions at the Montreux Jazz Festival in Switzerland, Aubrey is passionate about her art and finds herself at home whether in a recording studio, on stage with symphony orchestras, in intimate clubs with her own ensemble or in a classroom teaching kids.This Seattle native who makes her home in Los Angeles has attracted enthusiastic fans all across the country, and now, throughout much of the world.
Our lady also is a featured artist on tour with Scott Bradlee's acclaimed Postmodern Jukebox- like BAM!
Give It Away – '60s 'Austin Powers' – Style RHCP Cover ft. Aubrey Logan
Here – Peggy Lee – Style Postmodern Jukebox Alessia Cara Cover ft. Aubrey Logan
Beauty and The Beast – Vintage Jazz Disney Cover ft. Aubrey Logan – Postmodern Jukebox
The international Aubrey recently wrapped a tour (11 cities in the U.K. plus Dubai, U.A.E.) as a featured artist on tour with Scott Bradlee's acclaimed Postmodern Jukebox, and she will soon rejoin the tour with appearances in 29 European cities from Manchester to Nuremburg.This fall, Aubrey swings stateside in seven major U.S. cities, and she will be headlining jazz festivals in Boston and Bakersfield.Working at home in what she calls her "solitary confinement chamber" (the room with the keyboard, the metronome and a whole lot of manuscript paper)
"Don't Wanna Tell Nobody" written by Aubrey Logan:
Aubrey's new album"IMPOSSIBLE" is out and it's amazing! I have it and I cant stop listening to it- She has her fans to thank for this project; many even spurred her on through the online platform, PledgeMusic. And with her cheering section in mind, Aubrey has tailored the tracks with lots of pop influences and elements of jazz she has loved all her life.
Impossible written by Aubrey Logan:
So be ready for some favorite covers and a whole lot of original stuff. That's what Aubrey Logan does, and then some.  I am forever a fan and please see her website and run go check her tour dates, see her live and buy her album!
PS – Aubrey grabbed this guy on stage, Christopher Bill – they  played Crying on the Airplane and it was super !
enjoy!
Peace Perez