Hip chick alert puts the spotlight on Buffy Sainte-Marie, a Canadian-American Cree singer-songwriter, musician, composer, visual artist, educator, pacifist, and social activist. Throughout her career in all of these areas, her work has focused on issues of Indigenous peoples of the Americas. Her singing and writing repertoire also includes subjects of love, war, religion, and mysticism. In 1962, in her early twenties, Sainte-Marie was touring alone, developing her craft and performing in various concert halls, folk music festivals and Native Americans reservations across the United States, Canada and abroad.  I love her tone – her feeling and the way she put across a song-she lives them – each and every one of them!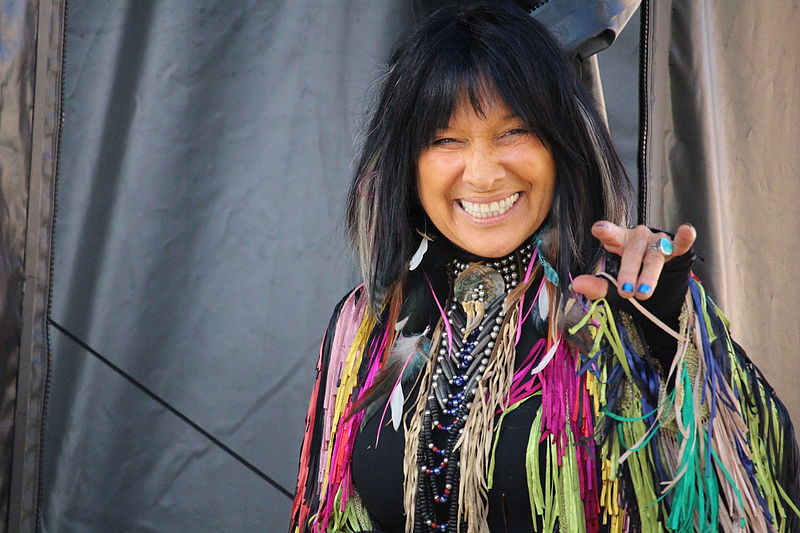 She spent a considerable amount of time in the coffeehouses of downtown Toronto's old Yorkville district, and New York City's Greenwich Village as part of the early to mid-1960s folk scene, often alongside other emerging Canadian contemporaries, such as Leonard Cohen, Neil Young, and Joni Mitchell  (she also introduced Joni to Elliot Roberts, who became Joni's manager).   She quickly earned a reputation as a gifted songwriter, and many of her earliest songs were covered, and often turned into chart-topping hits, by other artists including Chet Atkins, Janis Joplin and Taj Mahal.
One of her most popular songs, "Until It's Time for You to Go", has been recorded by artists as diverse as Elvis Presley, Barbra Streisand, Neil Diamond, Michael Nesmith, Arthur Fiedler and the Boston Pops Orchestra, Roberta Flack, Françoise Hardy, Cher, Maureen McGovern, and Bobby Darin, while "Piney Wood Hills" was made into a country music hit by Bobby Bare. Her vocal style features a frequently recurring, insistent, unusually sustained vibrato, (common to flamenco and powwow singers, and the chanteuse Edith Piaf) one more prominent than can be found in the music of any other well-known North American pop music performer.
In 1997 she founded the Cradleboard Teaching Project, an educational curriculum devoted to better understanding Native Americans. She has won recognition and many awards and honors for both her music and her work in education and social activism. This year 2015, Buffy Sainte-Marie released the album, Power in the Blood . The album is connected to True North Records.  Have a listen!
Please go to her website here, she is a hip chick!