Hip Chick Alert puts the spotlight on Postmodern Jukebox -its super fab and clever- and great tunes covers by several artist!
Scott Bradlee is a piano player and formed Postmodern Jukebox.  In looking for creative inspiration, Bradlee began reworking popular music as an exercise. Hip Chick Alert respects this guy's creativity and I love all the hip ladies that he features on the tracks -ladies like Morgan James- Haley Reinhart, Robyn Adele, Kate Davis, Ariana Savalas & Sarah Reich and many more- I need to give kudos to the male singers featured as well – Scott your a hip cat! In 2009, he released "Hello My Ragtime '80s", which incorporated ragtime-style piano into popular music from the 1980s.  After playing and experimenting on stage at his regular gig at Robert Restaurant, he released the compilation Mashups by Candlelight.  Bradlee gained popularity in 2012 with A Motown Tribute to Nickelback, a collaboration with local musicians which arranged Nickelback's songs in the style of 1960s style R&B music.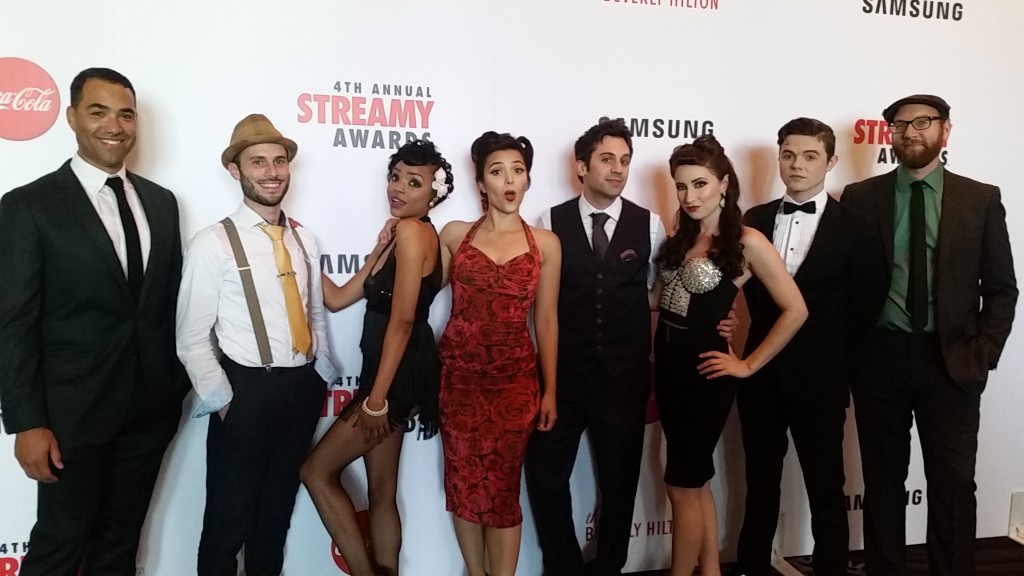 In 2013, Bradlee began to work more seriously on forming Postmodern Jukebox, a rotating group of musicians producing covers of pop songs in the styles of jazz, ragtime, and swing. The group burst onto the public radar with their doo-wop cover of Miley Cyrus's "We Can't Stop", featuring vocal group The Tee-Tones. As the viral surge grew, Bradlee was interviewed by news outlets such as NPR and also performed live on Good Morning America and Fuse. The group visited Cosmopolitan Magazine's New York office for a year-end review of their work and popular songs from the year.
Several artists have publicly noted their appreciation for the group's work. Among the group's prominent guest musicians are Dave Koz, who collaborated with them in a jazz covers of "Careless Whisper" and the Game of Thrones theme music, and Niia, who joined them for a "space jazz" version of "The End of the World".  Postmodern Jukebox's October 2013 collaboration with Puddles Pity Party on a cover of Lorde's "Royals" generated particularly strong interest; as of September 2014, this video remained the second most popular on Bradlee's YouTube channel with over 8.7 million hits.  Dig that! Dig it- I do!
RadioHeads Creep Cover ft. Haley Reinhart Post Modern Jukebox Style!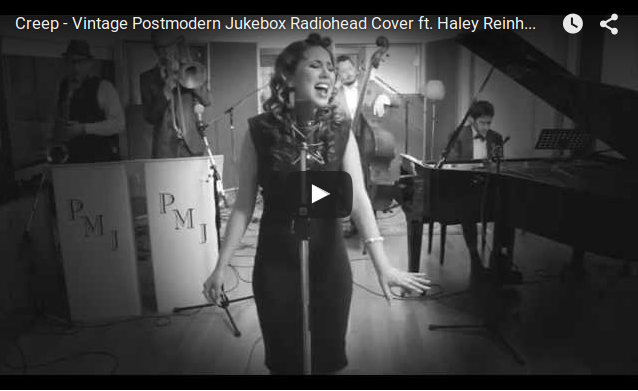 In 2013, Bradlee found interest from the video game industry, gaining a composer credit for 2K Games' BioShock Infinite soundtrack, which features four of his stylized arrangements: a piano cover of Tears for Fears' "Everybody Wants to Rule the World" (piano and vocals), a jazzy ragtime cover of Gloria Jones' "Tainted Love" (arrangement, piano), and covers of R.E.M.'s "Shiny Happy People" (arrangement and piano) and "After You've Gone" (arrangement, piano).Clever man!
In early September 2014, Bradlee uploaded a 1940s jazz interpretation of "All About That Bass" called "All About That (Upright) Bass", featuring Kate Davis singing solo while playing double bass, with Bradlee on piano and Dave Tedeschi on drums. The video received 8 million hits in three months. Also in 2014, Bradlee's YouTube Channel "Postmodern Jukebox" was listed as #42 on NewMediaRockstars' "Top 100 Channels".
Here is a very hip All About The BASS!
In late 2014 to 2015, his band was to tour America and Europe!  This is really hip sxxt! Enjoy! visit their website- http://postmodernjukebox.com/
oh yea! Sledgehammer – Peter Gabriel (Morgan James cover)

Peace Perez