Grace Grace Grace – I have always LOVED THIS ARTIST!
The Grace Jones story is coming out soon. Holy hip chick alert! Take a look at the cover!
This much-anticipated memoir, I'll Never Write My Memoirs, publishes Sept. 29 from Gallery Books. Jones explained the title, "I wrote a song called Art Groupie. First line said 'I'll never write my memoirs' — that was a long time ago. Since then, I thought, if I don't do it, somebody else will." The Jamaican-born Jones came to the U.S. as a teenager and signed to work as a model at seventeen. She modeled in Paris for Yves Saint-Lauren, roomed with Jerry Hall and had sleepovers with Jessica Lange.  She returned to New York, released three disco albums, collaborated with Andy Warhol and became a Studio 54 fixture. Jones had a third career as an actress, appearing in Conan the Destroyer (with Arnold Schwarzenegger) and A View to a Kill, Roger Moore's last James Bond film.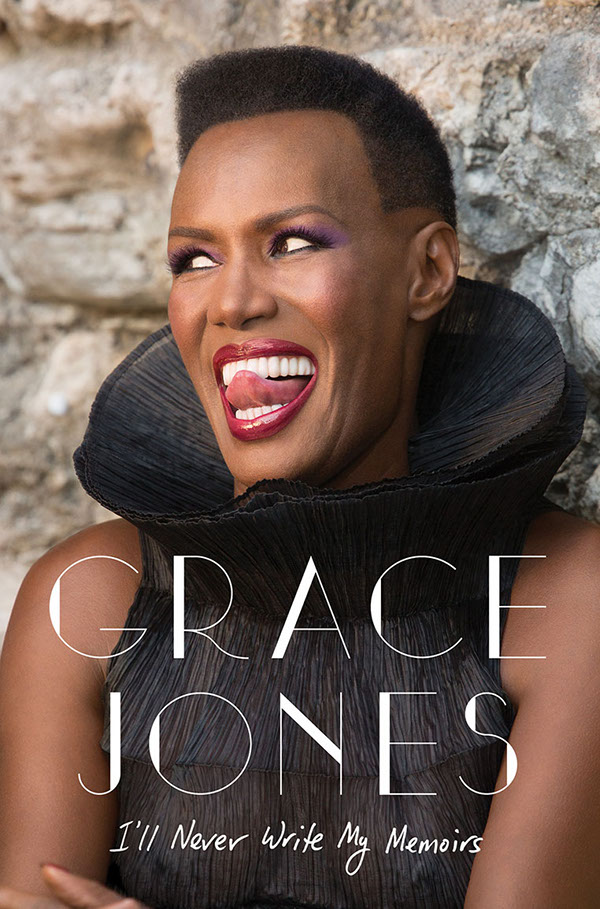 Grace Jones (born 19 May 1948) is a Jamaican singer, songwriter, supermodel, record producer, and actress. She was born in Spanish Town, Jamaica and raised by her grandparents. At 13 she moved with her siblings to their parents' home in Syracuse, New York. Jones started out as a model, initially in New York state, then in Paris, working for Yves St. Laurent, Claude Montana, and Kenzo Takada, and appearing on the covers of Elle, Vogue, and Stern working with Helmut Newton, Guy Bourdin, and Hans Feurer. Her relationship with her father was strained; he was strict and felt forced to disassociate himself from her because the church refused to make him a bishop as long as he was associated with his daughter.  So, he distanced himself and became a bishop.
Grace's mother, Marjorie, always supported Jones' career (she sings on "Williams' Blood" and "My Jamaican Guy") but could not be publicly associated with her music.  Marjorie's father, William, was also a musician, and played with Nat King Cole.
In 1977 Jones secured a record deal with Island Records; she moved into dance and new wave music, often collaborating with the Compass Point All Stars.  She scored Top 40 entries on the UK Singles Chart with "Pull Up to the Bumper", "I've Seen That Face Before", "Private Life", "Slave to the Rhythm" and "I'm Not Perfect".  Her most popular albums include Warm Leatherette (1980), Nightclubbing (1981), and Slave to the Rhythm (1985).
check out this interview with Joan Rivers: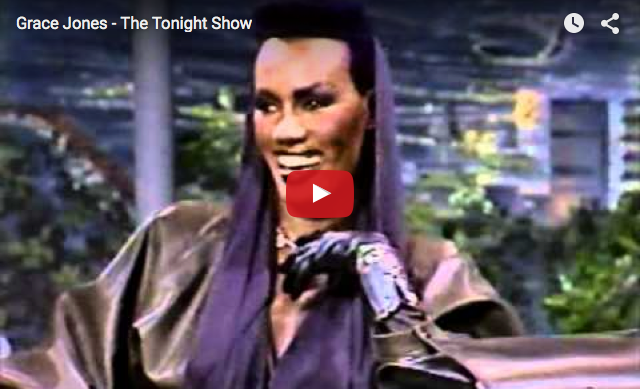 She appeared in some low-budget films in the U.S. during the 1970s and early 1980s. Her first mainstream film was the 1984 fantasy-action film Conan the Destroyer alongside Arnold Schwarzenegger and Sarah Douglas, and the 1985 James Bond movie A View to a Kill. In 1986 she played a vampire in Vamp, and acted in and contributed a song to the 1992 Eddie Murphy film Boomerang.  She appeared alongside Tim Curry in the 2001 film Wolf Girl.
here is the CLASSIC LA VIE EN ROSE!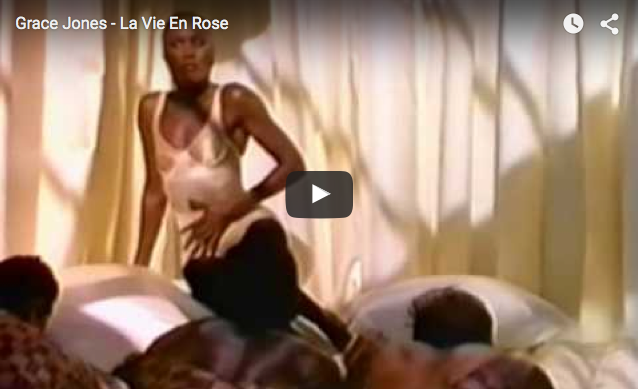 In 1983, Jones's One Man Show was nominated for a Grammy Award for Best Long-Form Music Video. For her work in Conan the Destroyer, A View to a Kill, and Vamp, she was nominated Saturn Awards for Best Supporting Actress.  In 1999, Jones ranked 82nd on VH1's 100 Greatest Women of Rock and Roll, and in 2008, she was honored with a Q Idol Award.  Jones influenced the cross-dressing movement of the 1980s and has been an inspiration for artists including Annie Lennox, Lady Gaga, Rihanna, Björk, Madonna, Róisín Murphy, Brazilian Girls, Nile Rodgers, Santigold, and Basement Jaxx.
Dig it dig her! Get the book! PEACE PEREZ