London is calling – and it was last week- and I was hanging with the top British vocal talent Anita Wardell!
there was no foggy day in London Town – the London Jazz Festival – was the place to be last week – Sheila Jordan – Anita Wardell- James Pearson – Alan Harris with Robin Aspland – Noemi Nuti with Quentin Collins- just to name a few.
The Pheasantry is a great room and has perfect acoustics – Noemi's face lit up when Anita and I walked into the room.  She then asked Anita to do a song with her and BAM! Magic-
Noemi a fantastic artist here she is with Quentin singing and swinging.
Allan Harris vocal talent is a friend from NYC. He was hitting it at Crazy Cogs and to my surprise London hip cat and friend phenomenal piano player Robin Aspland was accompanying him- this duet performance was moving – many of the songs – My Foolish Heart, The Touch Of Your Lips, But Beautiful – came from the Bennett/Evans canon and were given loving and effective treatments. Just sayin home run.
Here is a review from that evening's performance–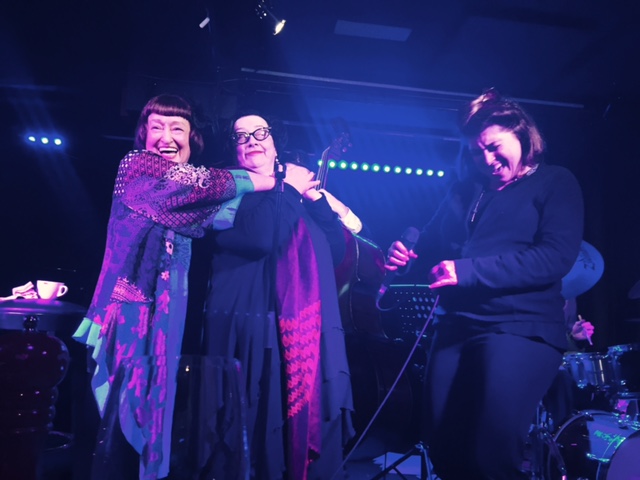 The last night of my time in London was legend- NEA JAZZ MASTER Sheila Jordan was at the Pizza Express – Both Shows sold out! Jordan was joined by frequent collaborator pianist Brian Kellock and his trio. Brian Kellock a master as well – the stars were out GRAMMY® NOMINATED Theo Bleckmann was at her first set. The second set and the last night of the festival was magical – Better than Anything- Peace by Horace Silver – the Moon is a Harsh Mistress and the Crossing – only to name a few of delightful treats that she presented- Then she called up Gill Manly and Anita Wardell holy hip chick alert ! GREAT JAZZ MOMENTS! I ran up close to capture images – the image above is fantastic-Sheila , Anita and Gill! – then I hear WHERE IS PEREZ ? – yes I was invited to hit it with these amazing artist and I did.  I have been floating on air since – thank you Sheila and Anita thank you to all the kind musicians that I sat in with – great to see Robin- Tristin- GREAT HANG! Jonh – Andre, Janet great TO SEE YOU AGAIN! lovely to meet new friends James Pearson – Gill Manly, Trudy Kerr- Zena James – Quentin Collins – Alex Garnett – Alex Webb – Emiliano Caroselli – Marta Capponi – Noemi Nuti, Jo Hanna – Sam Leak – LOVE YOU – still feeling that GREAT VIBE OF LONDON NIGHTS.
Peace Perez