Hi Hip CATS
I am back – it's been a while the pandemic and all, but I thought it's the perfect time to get back to blogging and let's start with Fashions biggest night out – no not the Oscars – though I love them as well as any award show – it's the MET GALA, so here goes!
"Gilded Glamour"
The Met Gala is fashion's biggest night out and celebrities are known for saving their most striking outfits for its often-theatrical red carpet.
Stars across industries including TV, film, politics, and sport did not disappoint, bringing exaggerated silhouettes, elegant accessories, and moments of drama to the Metropolitan Museum of Art on Monday evening.
Pandemic-related rescheduling meant it had been less than eight months since the (normally) annual fundraiser was last held, giving our genius designers less time to think about the event dress code "Gilded Glamour and White Tie."
The theme continued 2021's exploration of American style in keeping with the Costume Institute's accompanying two-part exhibition, "In America: An Anthology of Fashion" and many attendees took direct inspiration from the Gilded Age, an era that saw America transformed at the end of the 19th century- Brilliant it's about women in tight restraining corsets – yes a Bridgeton and Gilded Age infused fashion.
Because I have worked in Hollywood in the film business as well as worked in fashion Carolina Herrera, Dolce Gabbana, Loro Piana, Reem Accra and more I adore the Met Gala I think because I have respect for the clothing industry and hair and makeup professionals.
My Top Picks
A corset here a brilliant look there – when I think of these picks, I think about who read the invitation and understood the concept and nailed it!  Not in any order – let's see brilliance – art and fashion at its best.
Blake Lively and Ryan Reynolds 
Gala Chairman and co-hosts Blake Lively and Ryan Reynolds embraced the theme, with Lively in a glittering Versace beaded gown with an oversized coppery satin bow and matching gloves, Blake tribute to the empire state building – and there is a corset and amazing beading throughout the dress and had a glove change and Reynolds in a classic tuxedo
When Lively first arrived, the glittering, beaded Versace dress was wrapped by an oversized coppery satin bow. But as she ascended the stairs to the entrance of the Metropolitan Museum of Art, her bow was released to reveal the rest of the sweeping ensemble: A long skirt in an aged copper tone, paying tribute to the patina of the Statue of Liberty.  "This dress is an homage to New York City and so many of the classic, iconic buildings."
Billie Eilish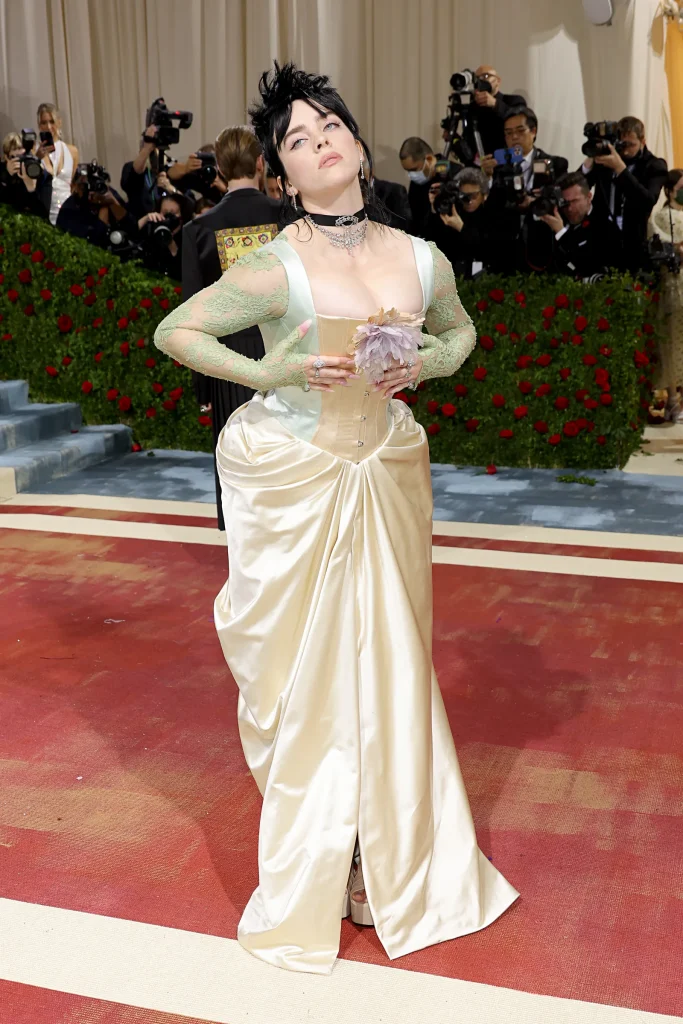 Billie Eilish is a Gilded Age dream in Gucci corset- Goth Modern totally on point.Billie Eilish stunned in an upcycled Gucci dress with a corseted bodice and sheer sea-foam-hued gloved sleeves. Every part of the dress was made from "already existing materials" she said, nodding to its eco-friendly design.
Katy Perry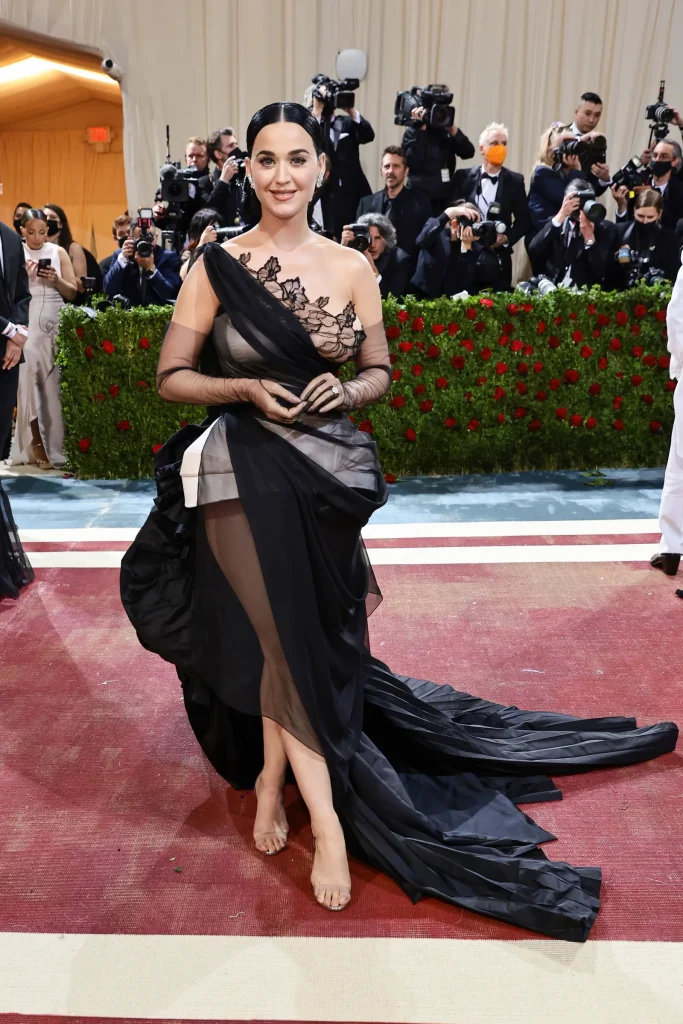 Katy Perry Wore A Lacy One-Shoulder Gown .A simple black and white one-shoulder mini gown accented with floral lace and Aquazzura heels. The way the lace was draped is flawless – the sheer gloves spot on and her hair and makeup perfection as to not to compete with the dress- the bottom of the dress is structured like an upside down tea cup –the transparent shoe – once again brill as to not to take away from the look ! A very modern interpretation of the Mets Theme – I adore this look.
Gigi Hadid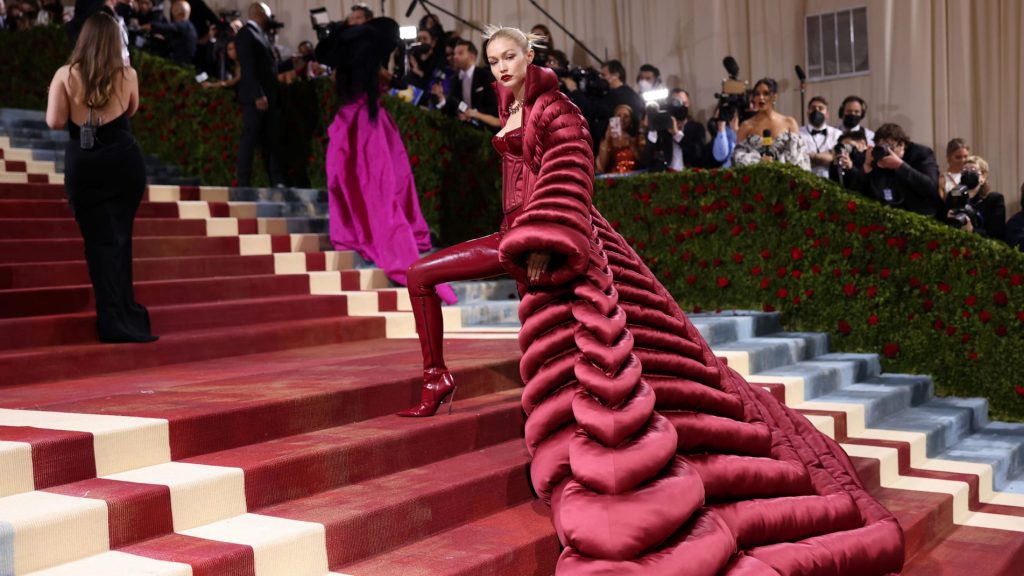 Gigi Hadid rocked an evening version of the classic winter parka when she strutted her stuff in Versace. a voluminous burgundy puffer coat with a high collar and a train and underneath wearing a corseted bustier and matching latex pants with high red boots, her hair in a spiky updo along with a bold red lip to match her monochromatic look. The coat oversized as if a tribute to the late Andre Leon Talley or the recent Dune film which was released in October 2021– The Look perfection!
Lenny Kravitz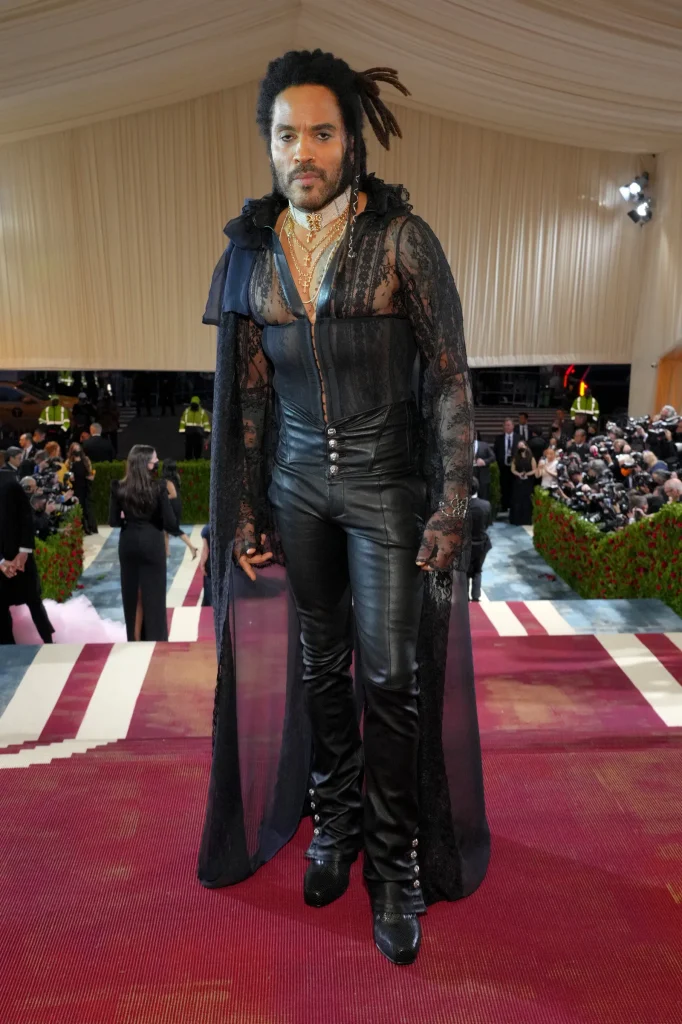 Spot On! Lenny Kravitz in a leather and lace corset-inspired top. 'That's all!
Rosalia  
High Fashion Moment here ! The House of Givenchy dressed Singer Rosalía in a Givenchy Haute Couture custom-made outfit designed by Matthew M. Williams! Ivory long dress in silk tulle embellished with G signature jewelry, fully embroidered with crystals, beads and silk ruffles layered with standing tulle, worn with matching embroidered gloves, ivory embroidered Kenny bag, ivory leather platform high boots, silver G earrings inserted with crystals and black matte signature G sunglasses.  This is old school Hollywood fashion glamor – just a breath of fresh air and a stunning fashion moment.
Lizzo  
This look took 22,000 hours to create, the labor of love for fashion here! the black silk satin dress gown by Thom Browne took 1,200 "man hours" of the golden hand embroidery- Love that she played her flute on the red carpet – Professional Musician all the way !
I could go on for hours on this topic – that's for a happy hour in the future.  Under Perez Lashes to be continued – my admiration goes out to all the designers – Hair and make-up and to the team of ladies in the back room – sewing and beading and creating these amazing looks and more.
And please plan your visit to the Met soon –
Anna Wintour
Thank you for Vogue and all that you do for Fashion universally and for Fashions yearly fundraiser – The Met Gala.
AP News – Met gala exhibit examines American fashion, frame by frame
thank you for stopping by – Stay well – support Art and Music – enjoy things –
PEREZ